A paper I've co-authored with my UW iSchool colleagues Adam D. Moore and Cheryl Metoyer, entitled Privacy in the Family,  is now out in the new book Social Dimensions of Privacy: Interdisciplinary Perspectives published by Cambridge University Press and edited by Beate Roessler and Dorota Mokrosinska. CUP | Amazon
The book also includes contributions from Dorota Mokrosinska, Beate Roessler, James Rule, Gary T. Marx, Priscilla M. Regan, Daniel J. Solove, Judith Wagner DeCew, Koen Bruynseels, Jeroen van den Hoven, Beate Roessler, Annabelle Lever, Colin J. Bennett, Adam Molnar, Christopher Parsons, Kirsty Hughes, Valerie Steeves, Anita L. Allen, Helen Nissenbaum, Andreas Busch, and Paul M. Schwartz.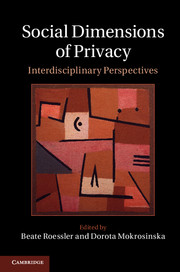 From the book's description:
Written by a select international group of leading privacy scholars, Social Dimensions of Privacy endorses and develops an innovative approach to privacy. By debating topical privacy cases in their specific research areas, the contributors explore the new privacy-sensitive areas: legal scholars and political theorists discuss the European and American approaches to privacy regulation; sociologists explore new forms of surveillance and privacy on social network sites; and philosophers revisit feminist critiques of privacy, discuss markets in personal data, issues of privacy in health care and democratic politics. The broad interdisciplinary character of the volume will be of interest to readers from a variety of scientific disciplines who are concerned with privacy and data protection issues.